The Festive Tech Calendar Hackathon has come to an end! Many have tried (going by the questions I received) and some have even been able to submit a solution. First of all, thank you to our sponsor Intercept for providing the winner with an amazing prize. Also a big thanks to Gregor Suttie and Richard Hooper for having me for this years Festive Tech Calendar!
Some amazing solutions have been submitted and we could tell a lot of work has gotten into building them. From Dockerized solutions to ARM Templates, GitHub Actions and Azure DevOps. It is stunning to see how creative you all are!
I have to be honest; it wasn't easy to judge this! Luckily I had some amazing help from Rinie Huijgen, Barbara Forbes and Wim Matthyssen who were willing to review and score the solutions. I really cannot thank you enough for taking the time to go through the submissions. What an amazing job! The hardest part about this is having a winner. Because all solutions are way beyond what I expected and the effort that you put in is truly outstanding.
After hours of reviewing, testing, and scoring the reviewers were able to score on three different areas: the write-up, compliance with the requirements and creativity. All reviewers provided points for each subject individually which should result in a winner.
The winner
And it did! We have a winner! Mert Senel has won this Festive Tech Calendar's hackathon! Congratulations!
Mert built a scalable solution leveraging the following technologies:
Azure Traffic Manager
ARM Templates
Auto scaling
Azure App Services
Docker
GitHub Actions
GitHub Packages
That's quite some technologies used but with all the deployment automation in place it takes no effort to get it up and running!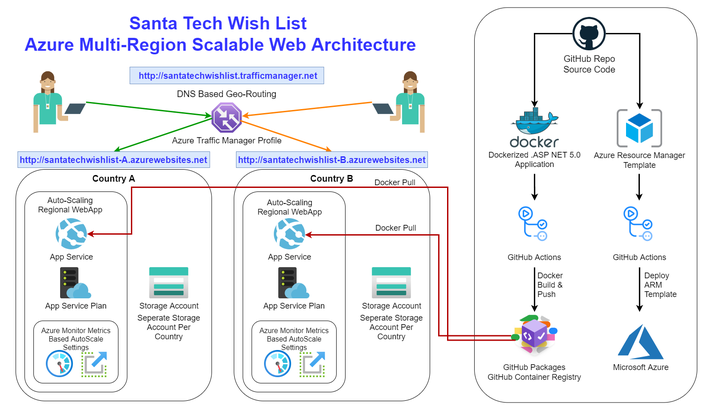 Some quotes from the reviewers on Mert his solution:
"Using GitHub packages is very original, very cool. When I started reading the write-up it turned out to be very well written, with great guidance on how to deploy the solution yourself."
"Easy to follow and well written step by step. Very detailed description of the different steps needed to deploy the solution, which is of help to people who don't work with GitHub and GitHub actions on a daily basis."
"Very good write-up, the provided solution is very robust"
If you want to see all the goodness that Mert built you can view it here:
I would also like to thank Karel de Winter, Matthew Boyd and Ed for providing awesome solutions! It was a close call. Some comments from the reviewers:
"Very creative and compliant solution, already contains code for 17 geographies and 37 regions."
"Very complete write-up, I like the fact that cleanup has also been coded (after all, its not always Christmas)"
"Extremely good write-up on Karel's own blog platform, easy to understand because the solution has been split in the config, infra and the app itself"
I can not thank everyone enough for participating. Once again, these submission were stunning and we can see a lot of effort went into them.
Mert, We will contact you about your prize. Of course expect we a picture once you received it! :)
A big massive thanks to our sponsor for this hackathon: Intercept - Empowering Azure